• eyelet • fashion • private label • romper • ruffle • summer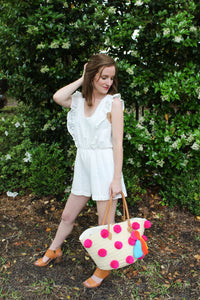 | Eyelet Romper | I love how easy rompers are for summer.  They can easily go from lunch with the girls at the beach to date night! However, there are some downsides to rompers. You know what I'm talking about - they can be way too short, even for those of us who are height-challenged. And they can be difficult to get in to - and we all know that means it will hang in your closet and never be seen!  That's why I especially love the ones we've gotten this season! I feel like I'm covered and it isn't difficult...
---
• blue and white • fashion • navy • one shoulder • private label • ruffle • top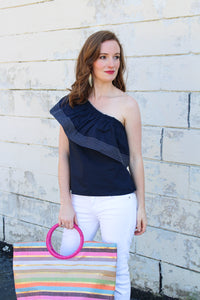 |  Sail Away  | Navy and white - a summer staple for a reason! I absolutely love the ruffle on this top! It adds just the right amount of drama to an otherwise simple top. The one shoulder is a great alternative to the sometimes annoying off the shoulder. It gives you a beautiful neckline and highlights the same area but stays in place!  This top is perfectly priced at $59! Use code RUFFLE for an extra 10% off! 
---
• blue and white • bow • dresses • fashion • private label • stripes • wrap dress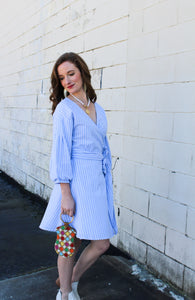 On the water wrap dress This dress combines classics with new favorites! The light blue and white stripes and lightweight material are perfect for spring. I absolutely love the balloon sleeves and exaggerated bow! They add the perfect amount of statement and the bow can be tied to have extra long ribbons if you want to go bolder.  Sometimes when you hear the words "wrap dress" it can make you wonder if it will stay in place or be comfortable. This dress is so easy to move around in and I feel secure all around! :) Bonus, it's under $100...
---
• denim • fashion • private label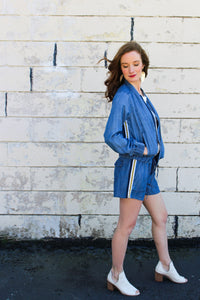 Denim tape jacket  Denim tape shorts This is honestly one of my favorite outfits this spring! Tencel denim is ah-mazing! It's so soft and feels like your favorite pair of perfectly worn jeans. It is lightweight which makes it perfect for spring and summer. I love this set because it's easy and comfortable but it looks great! The tape detail makes it a statement outfit instead of a simple denim look. The jacket and shorts are both under $100 which makes it a steal! Use code Denim to get 10% off each piece.