• blue and white • culottes • fashion • lace • navy • one shoulder • summer • top
Culottes are back and better than ever! I don't know about you, but I remember my GeeGee wore culottes all the time! So over the last few years I've been a little unsure when I would see them in stores, because, no offense to GeeGee, I don't want to look like a grandma in my 20s! 
---
• blue and white • fashion • navy • one shoulder • private label • ruffle • top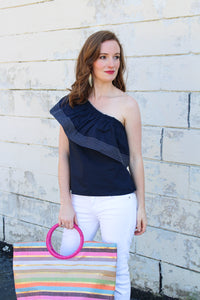 |  Sail Away  | Navy and white - a summer staple for a reason! I absolutely love the ruffle on this top! It adds just the right amount of drama to an otherwise simple top. The one shoulder is a great alternative to the sometimes annoying off the shoulder. It gives you a beautiful neckline and highlights the same area but stays in place!  This top is perfectly priced at $59! Use code RUFFLE for an extra 10% off! 
---
• blue and white • bow • dresses • fashion • private label • stripes • wrap dress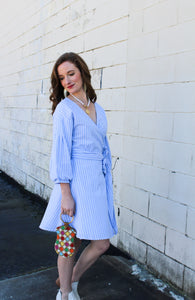 On the water wrap dress This dress combines classics with new favorites! The light blue and white stripes and lightweight material are perfect for spring. I absolutely love the balloon sleeves and exaggerated bow! They add the perfect amount of statement and the bow can be tied to have extra long ribbons if you want to go bolder.  Sometimes when you hear the words "wrap dress" it can make you wonder if it will stay in place or be comfortable. This dress is so easy to move around in and I feel secure all around! :) Bonus, it's under $100...