• dresses • fashion • navy • ruffle • summer • wedding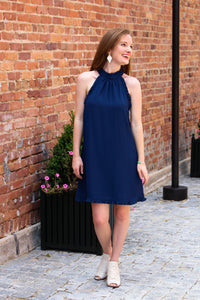 | Midnight Escape | This dress is gorgeous! The material is so soft and flows when you move and that color!! I absolutely love a midnight blue! My favorite thing about this dress though is the ruffle detail on the hem and neckline. It adds an extra touch of softness without feeling like a little girl. The trapeze neckline is very flattering and take the dress to another level. It's perfect for a wedding, shower, or whatever event you may have this summer! Use code MIDNIGHT for an extra 20% off of this dress! Small and Medium available.
---
• eyelet • fashion • private label • romper • ruffle • summer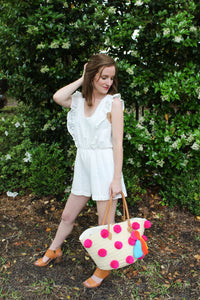 | Eyelet Romper | I love how easy rompers are for summer.  They can easily go from lunch with the girls at the beach to date night! However, there are some downsides to rompers. You know what I'm talking about - they can be way too short, even for those of us who are height-challenged. And they can be difficult to get in to - and we all know that means it will hang in your closet and never be seen!  That's why I especially love the ones we've gotten this season! I feel like I'm covered and it isn't difficult...
---
• fashion • floral • ruffle • summer • tank • top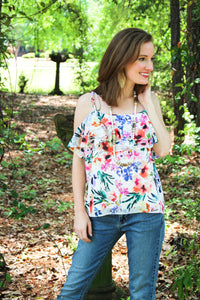 | Fifer floral tank | Give me all the florals!! I absolutely love this tank for summer. I love how colorful it is and the fun ruffle detail. The straps tie which makes it even more fabulous in my book! It's lightweight and fully lined. Can we just talk about these jeans for a minute? I am loving the pearl embellishment! Statement jeans are so fun and can add a flirty or edgy element to a piece of clothing we often dismiss as plain.  Use code FLORAL for 10% off of this tank! 
---
• blue and white • fashion • navy • one shoulder • private label • ruffle • top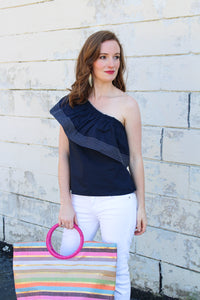 |  Sail Away  | Navy and white - a summer staple for a reason! I absolutely love the ruffle on this top! It adds just the right amount of drama to an otherwise simple top. The one shoulder is a great alternative to the sometimes annoying off the shoulder. It gives you a beautiful neckline and highlights the same area but stays in place!  This top is perfectly priced at $59! Use code RUFFLE for an extra 10% off!