• dresses • fashion • lace • lace dress • midi • midi dress • summer • sundress • tank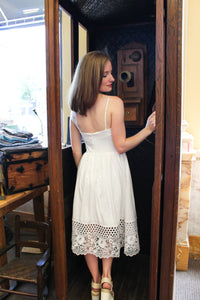 | Salerno Sundress | I don't know about you but I love a sundress in the summer! It's so hot in South Carolina that a comfortable dress is all I ever want to wear. And I love when it's one you can wear all day and transition to dinner out!  I love the contrast of the crisp lines in the bodice against the detail of the lace. And best of all, it has pockets!  Use discount code SUNDRESS for 20% off this fabulous dress! 
---
• dresses • fashion • navy • ruffle • summer • wedding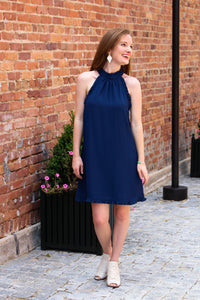 | Midnight Escape | This dress is gorgeous! The material is so soft and flows when you move and that color!! I absolutely love a midnight blue! My favorite thing about this dress though is the ruffle detail on the hem and neckline. It adds an extra touch of softness without feeling like a little girl. The trapeze neckline is very flattering and take the dress to another level. It's perfect for a wedding, shower, or whatever event you may have this summer! Use code MIDNIGHT for an extra 20% off of this dress! Small and Medium available.
---
• balloon sleeves • bubblegum pink • dresses • fashion • summer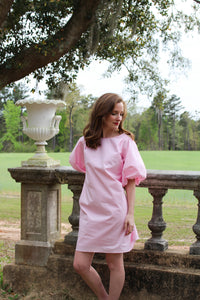 | Dahlia dress | Everyone should have a few statement pieces in their wardrobe. I love balloon sleeves...I mean, hello 80s! The contrast of statement sleeves with clean lines on the rest of the dress is amazing. Bubblegum pink looks beautiful on everyone and I love how soft and feminine it is. This is a dress you'll be able to wear to a wedding, work, church, and everyday!    Use code BUBBLEGUM for 10% off! 
---
• dresses • fashion • maxi dress • navy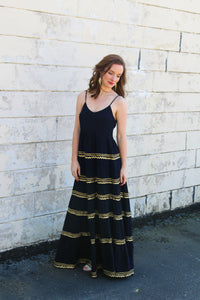 |  Navy maxi  | Oh how I love a maxi dress! This maxi moves beautifully, feels great on and is perfect for so many occasions! It would be beautiful for a wedding, outdoor event, at the beach or abroad. Just imagine with me for a minute: Italian countryside, a winery and you in this dress! It's a beautiful thing! We only have one size 8 left in this gorgeous dress! Snatch it while you can! Use code MAXILOVE for 10% off! 
---
• dresses • fashion • lace • lace dress • midi • midi dress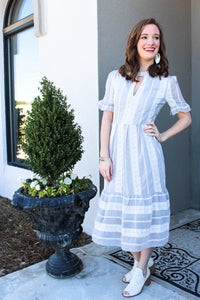 Lace midi dress Bring on the midis!! Add in some lace and a vintage flair and I'm hooked! This dress has a lot of design in it - the keyhole choker neck, the ruffle on the sleeves and the hem, and lace. I love dresses that don't need a lot of accessorizing because they're so beautiful on their own! That's the kind you'll throw on all summer!  Need a last minute Easter dress? This would be a beautiful choice at a great price! Use discount code EASTER for 10% off!