• blue and white • culottes • fashion • lace • navy • one shoulder • summer • top
Culottes are back and better than ever! I don't know about you, but I remember my GeeGee wore culottes all the time! So over the last few years I've been a little unsure when I would see them in stores, because, no offense to GeeGee, I don't want to look like a grandma in my 20s! 
---
• dresses • fashion • navy • ruffle • summer • wedding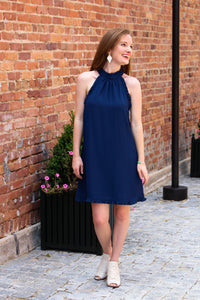 | Midnight Escape | This dress is gorgeous! The material is so soft and flows when you move and that color!! I absolutely love a midnight blue! My favorite thing about this dress though is the ruffle detail on the hem and neckline. It adds an extra touch of softness without feeling like a little girl. The trapeze neckline is very flattering and take the dress to another level. It's perfect for a wedding, shower, or whatever event you may have this summer! Use code MIDNIGHT for an extra 20% off of this dress! Small and Medium available.
---
• dresses • fashion • maxi dress • navy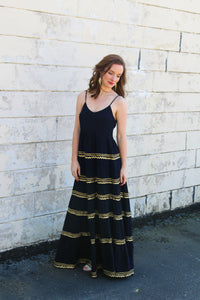 |  Navy maxi  | Oh how I love a maxi dress! This maxi moves beautifully, feels great on and is perfect for so many occasions! It would be beautiful for a wedding, outdoor event, at the beach or abroad. Just imagine with me for a minute: Italian countryside, a winery and you in this dress! It's a beautiful thing! We only have one size 8 left in this gorgeous dress! Snatch it while you can! Use code MAXILOVE for 10% off! 
---
• blue and white • fashion • navy • one shoulder • private label • ruffle • top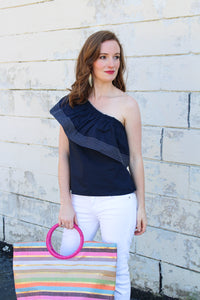 |  Sail Away  | Navy and white - a summer staple for a reason! I absolutely love the ruffle on this top! It adds just the right amount of drama to an otherwise simple top. The one shoulder is a great alternative to the sometimes annoying off the shoulder. It gives you a beautiful neckline and highlights the same area but stays in place!  This top is perfectly priced at $59! Use code RUFFLE for an extra 10% off!