• blue and white • culottes • fashion • lace • navy • one shoulder • summer • top
Culottes are back and better than ever! I don't know about you, but I remember my GeeGee wore culottes all the time! So over the last few years I've been a little unsure when I would see them in stores, because, no offense to GeeGee, I don't want to look like a grandma in my 20s! 
---
• fashion • floral • ruffle • summer • tank • top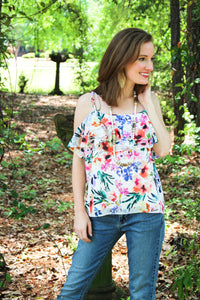 | Fifer floral tank | Give me all the florals!! I absolutely love this tank for summer. I love how colorful it is and the fun ruffle detail. The straps tie which makes it even more fabulous in my book! It's lightweight and fully lined. Can we just talk about these jeans for a minute? I am loving the pearl embellishment! Statement jeans are so fun and can add a flirty or edgy element to a piece of clothing we often dismiss as plain.  Use code FLORAL for 10% off of this tank! 
---
• blue and white • fashion • navy • one shoulder • private label • ruffle • top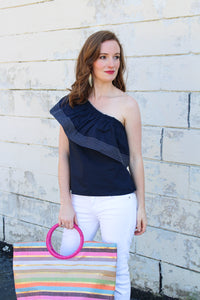 |  Sail Away  | Navy and white - a summer staple for a reason! I absolutely love the ruffle on this top! It adds just the right amount of drama to an otherwise simple top. The one shoulder is a great alternative to the sometimes annoying off the shoulder. It gives you a beautiful neckline and highlights the same area but stays in place!  This top is perfectly priced at $59! Use code RUFFLE for an extra 10% off! 
---
• coral • fashion • halter • key hole top • top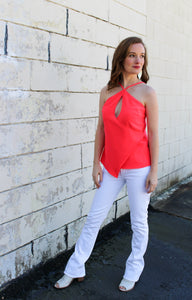 Electric Neal top Versatility is a girl's best buddy! So let me introduce you to your new bestie! It can easily go from fiercely edgy to strikingly beautiful. Wear it to work, with a fabulous pair of white jeans for a night out, or a skirt for a "dressier" look. I love it with this satin midi skirt, but it would look great with a maxi skirt as well! I absolutely love the color of this top-it's a great electric coral color that works for all skin types.  Creating a bigger wardrobe with fewer pieces means you have more room in...