• dresses • fashion • lace • lace dress • midi • midi dress • summer • sundress • tank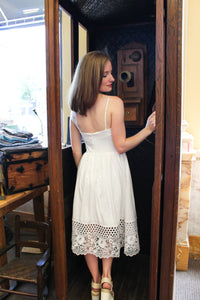 | Salerno Sundress | I don't know about you but I love a sundress in the summer! It's so hot in South Carolina that a comfortable dress is all I ever want to wear. And I love when it's one you can wear all day and transition to dinner out!  I love the contrast of the crisp lines in the bodice against the detail of the lace. And best of all, it has pockets!  Use discount code SUNDRESS for 20% off this fabulous dress! 
---
• blue and white • culottes • fashion • lace • navy • one shoulder • summer • top
Culottes are back and better than ever! I don't know about you, but I remember my GeeGee wore culottes all the time! So over the last few years I've been a little unsure when I would see them in stores, because, no offense to GeeGee, I don't want to look like a grandma in my 20s! 
---
• dresses • fashion • lace • lace dress • midi • midi dress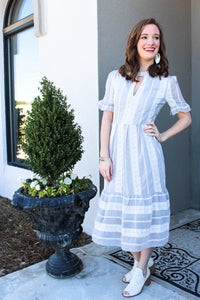 Lace midi dress Bring on the midis!! Add in some lace and a vintage flair and I'm hooked! This dress has a lot of design in it - the keyhole choker neck, the ruffle on the sleeves and the hem, and lace. I love dresses that don't need a lot of accessorizing because they're so beautiful on their own! That's the kind you'll throw on all summer!  Need a last minute Easter dress? This would be a beautiful choice at a great price! Use discount code EASTER for 10% off!