• book review • books • change • devotional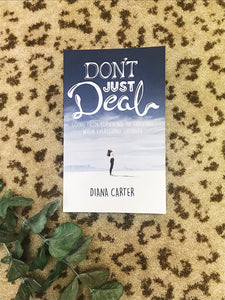 Diana Carter lives in Charlotte, NC and founded Because I'm His, an online community that encourages and helps women find their identity. Change is something we don't do well with, but it is the one thing we can count on. Diana wrote "Don't Just Deal" after walking through some big changes and realizing she maybe didn't handle it as well as she could have. The book is set up as a 30 day devotional with "Kick Around Questions" and a "Prayer Nudge" at the end of each day. There are so many good little nuggets I wrote down, I might...
---
• dresses • fashion • lace • lace dress • midi • midi dress • summer • sundress • tank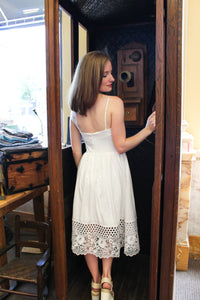 | Salerno Sundress | I don't know about you but I love a sundress in the summer! It's so hot in South Carolina that a comfortable dress is all I ever want to wear. And I love when it's one you can wear all day and transition to dinner out!  I love the contrast of the crisp lines in the bodice against the detail of the lace. And best of all, it has pockets!  Use discount code SUNDRESS for 20% off this fabulous dress! 
---
• blue and white • culottes • fashion • lace • navy • one shoulder • summer • top
Culottes are back and better than ever! I don't know about you, but I remember my GeeGee wore culottes all the time! So over the last few years I've been a little unsure when I would see them in stores, because, no offense to GeeGee, I don't want to look like a grandma in my 20s! 
---
• dresses • fashion • navy • ruffle • summer • wedding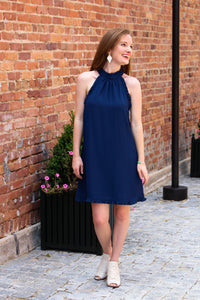 | Midnight Escape | This dress is gorgeous! The material is so soft and flows when you move and that color!! I absolutely love a midnight blue! My favorite thing about this dress though is the ruffle detail on the hem and neckline. It adds an extra touch of softness without feeling like a little girl. The trapeze neckline is very flattering and take the dress to another level. It's perfect for a wedding, shower, or whatever event you may have this summer! Use code MIDNIGHT for an extra 20% off of this dress! Small and Medium available.
---
• eyelet • fashion • private label • romper • ruffle • summer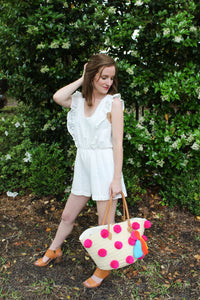 | Eyelet Romper | I love how easy rompers are for summer.  They can easily go from lunch with the girls at the beach to date night! However, there are some downsides to rompers. You know what I'm talking about - they can be way too short, even for those of us who are height-challenged. And they can be difficult to get in to - and we all know that means it will hang in your closet and never be seen!  That's why I especially love the ones we've gotten this season! I feel like I'm covered and it isn't difficult...